We are going to support SMEs through research development and human resources development to utilize IoT in your business.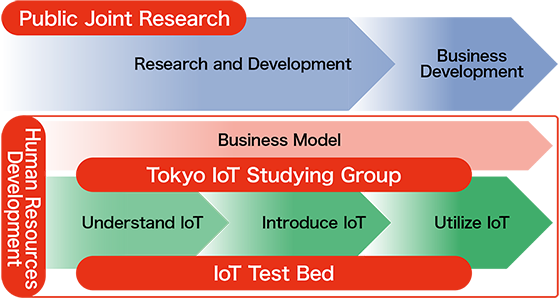 To promote IoT in existence business or new business of SMEs, we provide machine display and test environment in order to support obtaining knowledge and techniques of IoT.
1. Understanding IoT system
Understanding data acquisition, transmission, accumulation and analysis by system display.
2. Providing IoT test environment
Technical guidance and testing preproduction in each IoT layer.
3. Developing IoT system
Development of IoT devices, IoT system, operation and security confirmation.
IoT Test Bed >
(Japanese page)
We are going to conduct public joint research project in four perspectives as below in order to support SMEs to utilize IoT for productivity enhancement and producing IoT products.
1. Monitoring: Condition monitoring, Position information management, Traffic line detection and analysis.
2. Data cooperation: Smart device, Open-data, Business collaboration
3. Predictive maintenance: Abnormality detection, Failure prediction, Maintenance
4. Remote control: Device Operation, Firmware update, Edge computing
Public Joint Research >
(Japanese page)
Introducing IoT cases supported by TIRI so far.
Support Case >
(Japanese page)
We are going to collect and transmit IoT information and public awareness tend toward improvement of manufacturing process or new businesses for SMEs.
1. Holding seminars.
2. Case study, holding workshop and working group.
3. Generate projects based members.
Tokyo IoT Studying Group >
(Japanese page)
We are going to conduct human resources development program in three perspectives as below for educating SMEs IoT human resource.
1. Data acquisition and transmission from technical perspective.
2. Data accumulation and analysis from technical perspective.
3. Utilize of IoT from management perspective.
Human Resources Development >
(Japanese page)
In addition to free word search, it is possible to efficiently search for IoT cases based on conditions such as industry, purpose of IoT utilization, and technology used (Sensor, Network and AI).
Search for IoT Cases >
(Japanese page)
For members of the Tokyo IoT Studying Group, we support IoT product development through communication tests that support various Communication Standards and the use of measuring equipment.
High-Speed Communication Test >
(Japanese page)